News & Events
September 16, 2010

Börgen Systems introduces an additional line of refrigerated merchandising cases.

Börgen Systems today announced the introduction of the all new "Essential Line" of cases, which significantly extends the company's range of offerings. The line is highly standardized and allows Börgen to provide price sensitive cases that are widely used in the supermarket industry.

"Börgen Systems has been working for the past ten months to bring this line to market," said Arden Börgen; founder and CEO of Börgen Systems. "Our focus is to provide well built, energy efficient, price competitive cases that allow our customers to save money and time by simplifying their refrigerated equipment sourcing."

The line will begin with meat, produce, dairy and deli style multi-deck cases as well as a line of dual temperature bunker cases. Other styles of cases will be added as they are developed.

Börgen will begin the introduction of the new "Essential Line in September, utilizing its sales force, website and Mobile Showroom (which brings a complete range of cases right to a customer's location).

The current line of Börgen Systems Floral, Deli and Wine cases will be identified under the "Signature Line " banner. This line will continue the Börgen tradition of almost infinite customization and attention to design detail.

For more information on the new "Essential Line" or to arrange an appointment of the Mobile Showroom please visit Börgen Systems website: http://www.borgensystems.com/Products.html or call 1-800-383-7509.
"Börgen Systems is a privately held manufacturer of high quality refrigerated Floral, Food Service, Deli and Wine merchandising systems; located at 1901 Bell Avenue, Suite 2, Des Moines, Iowa 50315.
Phone: 1-515-243-7509 Toll Free: 1-800.383.7509 Fax: 1-515-243-1474.
On the web at www.borgensystems.com
Bill Carlson Vice President
bcarlson@borgensystems.com

The börgen Cup
The Annual Merchandising Award of Excellence has continued to inspire floral merchandisers to connect with their customers and increase sales. Click on the Börgen Cup photo for more information.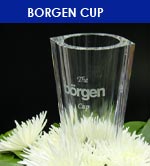 New Website
börgen systems has announced the activation of a new web site design, which makes access to floral, wine and deli / bakery information easier by allowing visitors the ability to view and download drawings and technical information. The site www.borgensystems.com also has information about the company Showroom truck and the annual Börgen Cup floral merchandising competition.
Des Moines, Iowa
börgen systems announced an expansion of its deli and bakery line of refrigerated merchandising fixtures. The addition of a new low profile self serve soup kiosk and the ultra sleek gourmet sandwich prep case now brings the line of products to more than 110 standard items.
"The focus of the entire line is to bring competitively priced high quality fixtures that improve the productivity and ROI for our customers, said Bill Carlson, Vice President of Sales and Marketing, "We accomplish this by using a unique process that identifies key operational and design needs of each customer and then adapt the fixtures to meet those needs."
For more information contact börgen systems toll free at 1.800.383.7509, 8:00 A.M. to 5:00 P.M. Central Time.